We caught up with one of our newest members, Melissa May Smith – a freelance creative and performer with vast experience in the creative industries.
Melissa's recent projects include the new Nottingham-based psychological drama, "Without Sin", starring Vicky McClure. The four-part miniseries was produced by Left Bank Pictures and Build Your Own Film, whose production office for a time was based right here at Antenna.
Hi Melissa, tell us a bit about you…
Hello, my name is Melissa May Smith, and I am, for want of a better phrase a creative multi-hyphenate – I direct, I act, I write, I am a practitioner and anything that's remotely creative and performance-based, I generally have a strong interest in it.
Outside of work, I like yoga, Pilates and swimming. I also enjoy seeing friends and going to the theatre.
Can you tell us about some of the projects you're involved in?
Sure thing, I'm based about half way between Nottingham and Leicester and so I go between the two cities a fair amount.
I work with the Actors Workshop, which is an adult acting group based in Nottingham. I do some of the training there and help behind the scenes with the management of the business and generating business ideas.
I also lead two groups at Nottingham Playhouse called Rootz, they're specifically aimed for young people, aged 13 to 21 that have some experience of care. I co-run Rootz with the super talented local writer and spoken word artist Sarah 'Rain' Kolawole. The sessions are free to attend and run every fortnight.
I do some work in Leicester for Curve theatre and until recently, I ran an acting school called Urban Young Actors in the city, and so, I'm often popping back there to see everyone.
What would you say has been your biggest career milestone to date?
The thing I'm most proud of is my 13 years with Urban Young Actors, a leading specialist drama school in Leicester. I founded the business myself and led a number of classes across different age groups. The school is now in the capable hands of Katie Burchett and Kieran Vyas.
Even though I'm not connected to it anymore, I'm proud of the legacy that I've left behind at the school and I'm proud of all my former students. Mahalia Burkmar recently won a MOBO award (Best R&B/Soul Act), Owen Warner is on Hollyoaks and came runner up in this year's I'm a Celebrity Get Me Out of Here, and Jurell Carter continues to impress in Emmerdale. They have all remained the kind and humble people they have always been.
I was sad to let go of the school, however, it's nice to have more scope to pick and choose the work that I want to do. I'm really passionate about young people and just making the arts more accessible, encouraging more people into the theatre and letting them know that it's a space for everybody.
Brilliant, that's so lovely. Tell us what you've been up to with your newfound freedom
Every week is different for me really. I'm currently writing a TV pilot at the moment which I'm super excited about. I've also done a fair bit of filming bits and bobs recently. I did a voiceover recently for an animation film that's being made for a local charity called Larsen's Pride – it's a charity that is improving the lives of children with brain tumours.
I've also been working on the new Active Bystander campaign to help NHS staff navigate through difficult scenarios. It is currently being trialled across Leicester hospitals but will hopefully then be going nationwide. I regularly have dealings with NHS staff as they take great care of my youngest daughter so I have the greatest of respect for them all! It was a real privilege to be involved in the project.
I've been involved in lot of football-themed acting jobs this year for The FA and Premier League and that's no doubt come off the back of the Lionesses winning the Euros, which I've really embraced. Previously, I'd never really been into football, however, I changed my mind once I got behind the Lionesses and saw how inspired my own two young daughters were.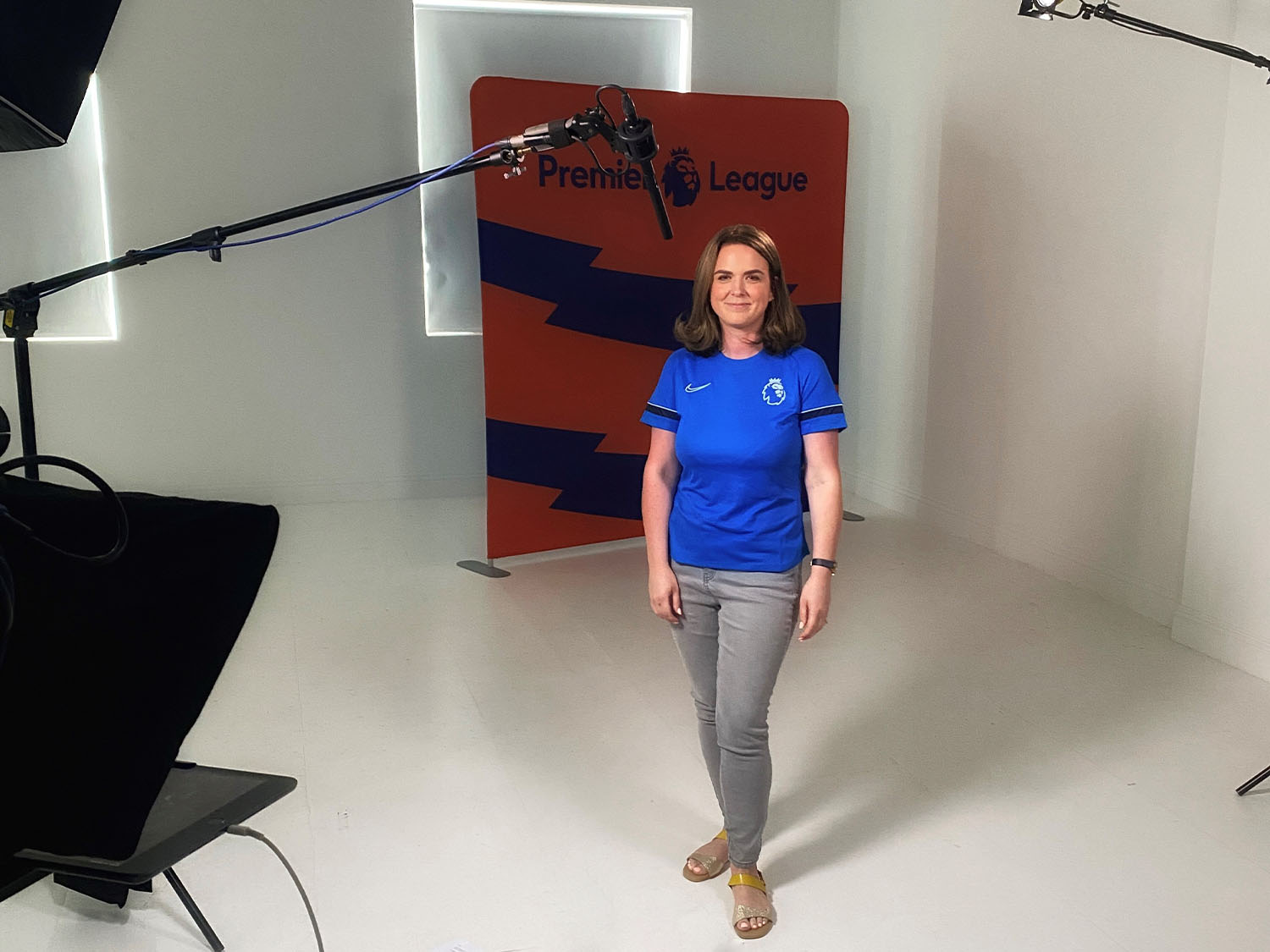 What was it like working on the production of Vicky McClure's new TV show, Without Sin?
Oh yes, so I did do a bit of work for Without Sin, it's a four-part mini-series starring Vicky McClure and Johnny Harris, it's coming out later this month. Years ago, I trained with Vicky at The Television Workshop, it's BAFTA award-winning drama group and TV casting resource in Nottingham. So, yes, we were in the same training group together basically learning to act when we were teenagers. She has always been incredibly lovely to be around and deserves all the success she has.
I just had a tiny part in Without Sin, I played a friend of Vicky's character. It involved a fun day of basically being sat at a bar, doing lots of adlibbing, looking very joyful playing card games around a table. It felt just like old times, like being back at The Television Workshop.
They shot the production during the pandemic, and I think that, by the time I got on set, it was at the very, very end of the shoot. I heard it has been challenging and a bit stop-start thanks to COVID, however, by the time I came in for my scene, they had overcome those challenges and got everything they needed in the can. It was interesting being back on a set again, you know, post-COVID and to see how that had really changed the workings of the TV set.
You recently joined Antenna, what made you want to join?
I think post-COVID I was working from home an awful lot, I just craved being in a space with likeminded individuals and Antenna offers that. I've been aware of Antenna for a long time and my husband used to work for Spool, they're a film and tv production company based in Antenna's basement.
Over the years, I've been to all sorts of events, auditions and things there, like Confetti Industry Week. I just like the vibe of the place and how you can grab a table in the co-working space and crack on with your work. I feel productive and you can avoid the usual distractions, unless, in a good way, it's someone you know and they're saying hi. But yes, it's got a real kind of community feel to it. It's obviously centrally-located, and you can get your lunch there whilst you're working away, and a nice tea or coffee as well.
You mention that you were involved in Industry Week, Confetti Institute of Creative Technologies week-long creative industries conference. Can you tell us a bit about your involvement?
In March 2022, I worked with the award-winning writer and film director, Sarmad Masud to appear as part of a number of directing workshops he delivered to Confetti students. I played the part of his guinea pig actor, to demonstrate to students how to direct. Like I said before, I am super passionate about supporting young people's creativity and there were definitely some directors of the future in those workshops. It was also lovely because I hadn't seen Sarmad for ages – we'd previously worked together on one of the BFI Academy shoots way back – it was great to catch up.
How does Antenna factor into your every day?
My eldest daughter, she has recently got into The Television Workshop, which is around the corner and so it works out brilliantly because I can drop her off and then pop into Antenna and get some work done, or have a cheeky hot chocolate.
It's kind of like a one stop shop, isn't it? You know, you can get there, get your laptop out and you're sorted for the day and you're going to have everything you need around you. You've got your creature comforts, and there's always a nearby plug for your laptop, which is very important. I'd say I'm usually here at least once a week.
What's next for you?
I'm looking forward to continuing my work at Nottingham Playhouse and the Curve Theatre in the new year, and in March 2023 I'll be directing a play in Leicester.
If people want to get in touch, what's the best way to contact you?
I'd love to hear from other members and tenants with a shared interest in the creative industries. Please say hello if you see me out and about, I'm also on Instagram and Twitter @melmaycreative and my website is www.melmaycreative.com – people can readily chat to me on any of those ways.
Check out the new series, Without Sin, on ITV's new streaming platform, ITVX, beginning Wednesday 28 December
Not an Antenna member or tenant?
Antenna is Nottingham's most established co-working and flexible office space. Whether you're a freelancer or small creative company looking for space, Antenna offers flexible memberships from only £8.95 per month and a great city-centre location.
Find out more by heading over to our membership page.