Each year, Confetti Institute of Creative Technologies invite some of the biggest names from the creative and entertainment industries to put on masterclasses, talks, performances, workshops and game jams exclusively for its students.
From critically-acclaimed actors, Stephen Graham OBE and Vicky McClure, Doctor Who and It's A Sin director, Russell T Davies, through to Aardman Animations, Industrial Light and Magic (ILM), current chart toppers like Becky Hill, and music legends including William Orbit, Linda Perry, and Tony Visconti.
Whilst the majority of Industry Week sessions this year took place in our sister venues, Metronome and Confetti X, our co-working space served as a green room for some of the most talented professionals working in the creative and entertainment industries today.
Throughout the week, Antenna members and tenants were able to spot some famous faces and had the opportunity to make some valuable connections whilst working in the co-working space.  Several of our community members offered their time and expertise by contributing to the programme.
Antenna tenants, NUEL, delivered an interactive session in Confetti's new cross media venue, Confetti X, focused on varsity esports and getting employed in the esports industry. NUEL are one of the UK's leading grassroots esports organisers including the annual Amazon UNIVERSITY Esports UK & Ireland tournaments. For this session, students were joined by NUEL Managing Director, David Jackson and Head of Product, Peter Cole. David and Peter were joined by NUEL Founder, Josh Williams, and NUEL's Broadcast Manager / second year Confetti BSc (Hons) Esports Production student, Rebecca Green.
During their intimate session in Confetti X, the team brought students up to speed on all things NUEL, which has gone from what started out in a student's bedroom to now a dedicated professional company. Each team member talked a bit about their role and how they got involved in esports, they also unpacked job opportunities available within the industry (including at NUEL) and gave tips on the attributes recruiters are looking for:
"Don't believe in the social media hype – people sometimes get put off applying for jobs with companies like us because they think that they need to have 10+ years' experience, but that's not the case. We just need people who've got the right attitude.
"People who can take the initiative and solve problems are gold dust in a business. Having multiple skills and an openness to try new things and not say "that's not my job" will really benefit you."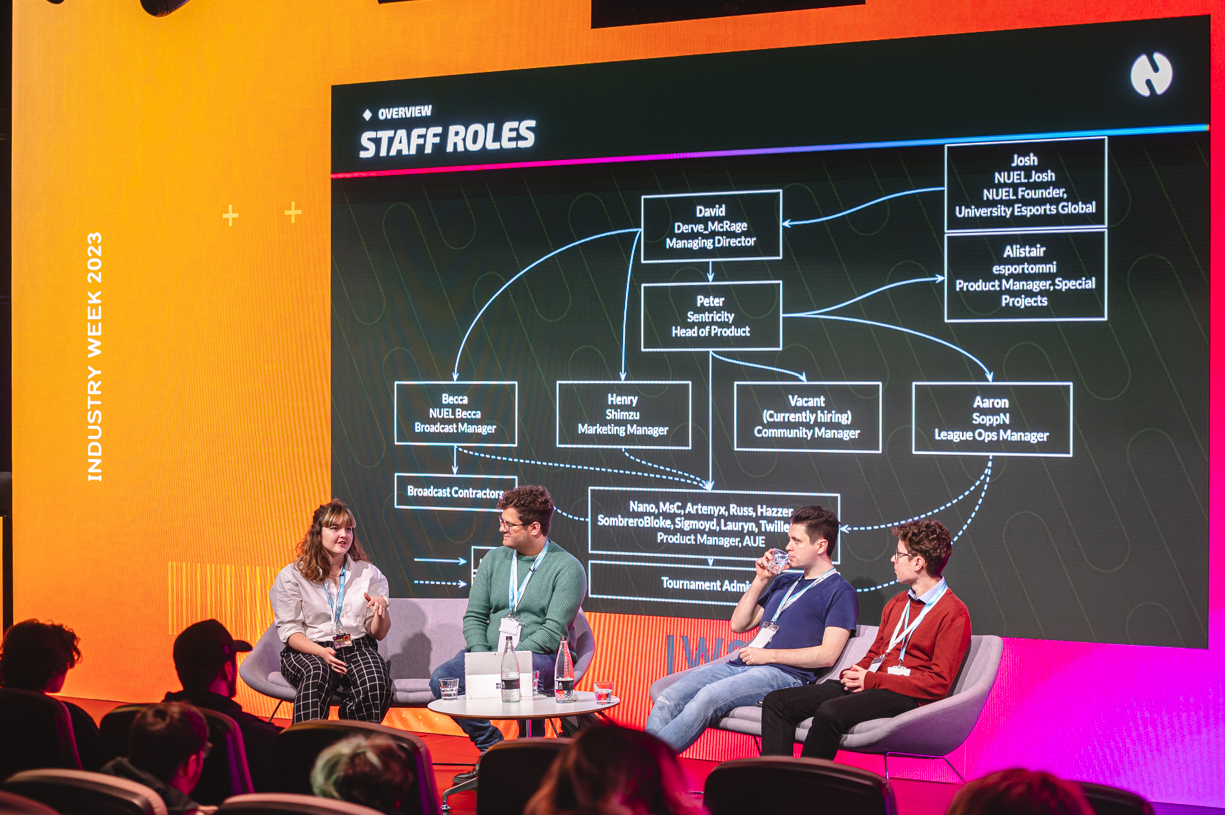 A big topic touched on was the bad wrap esports gets for poor community management online and NUEL discussed the line they are drawing in the sand on what's acceptable behaviour and language in esports. Speaking on their desire to push for change and clamp down harder, David Jackson said:
"It's infinitely better to be in front of the curve on things people can and can't say, as the last thing you want is to be the toxic esports tournament organiser. Don't feel the need to reflect the community if you think the community's wrong, take the initiative to try and steer it, and NUEL will support you all the way."
Josh Williams didn't shy away from the challenges of working in the fast-growing esports industry:
"A lot of things can go wrong and you're expected to be in a number of things that you're not qualified to do, but you've just got to get your hands dirty and get stuck in. It's natural to make mistakes and it's all part of the learning process.
"My advice is you've got to be really clear on why you're doing it and not lose sight of that – keep that belief in what you are doing and ask for help. There's the myth that people who start companies are magicians, but it takes people, you need to ask for help."
Second year BSc (Hons) Esports Production student, Rebecca Green (pictured above), has already secured herself a role in NUEL's senior team despite not yet finishing her degree, a credit to her hard work, determination and the quality of production knowledge and work experience she's gained whilst studying with Confetti, she said:
"I'm the only person looking after broadcast – the amount of freedom that you get working for a small business is incredible!
"It's nice to have so much say on what goes on, however, on the flipside it's kind of terrifying as you're often doing things for the business for the first time, you have to create the process and that can be daunting. You have to learn to make things up a bit as you go along and have confidence in your decisions.
"We're all kind of like a family – I genuinely love working with you guys. That's what keeps us going when things get challenging."
Antenna member and freelance creative and performer, Melissa May Smith, was also part of Industry Week. She teamed up with Actor/Producer, Tim Bryn Smith, and the award-winning filmmaker, Sarmad Masud, for not one but three superb directing workshops.
Sarmad Masud's first feature film 'My Pure Land' premiered at the Edinburgh International Film Festival and was the UK submission to the Oscars in the Foreign Language category. The film is set and filmed in Pakistan and based on the extraordinary true story of one woman and her family who defended their home and land from 200 bandits. Most recently, Sarmad directed all four episodes of 'You Don't know Me', a brand-new drama series written by Tom Edge for BBC and Netflix.
The workshops delved into the multi-faceted role of a Director, from directing the performance, to sticking to time, maintaining a dialogue with your producer, picking the brains of the actors and working collaboratively with the Assistant Director. During the sessions, Sarmad had students take the reins, directing Tim and Melissa as they ran through different scenes. He also pulled up his Netflix show on screen, dissected the different camera angles and talked the audience through his creative process.
Industry Week also saw us mark International Women's Day with a celebration of women making waves in the creative and entertainment industries, including one of the most prominent names in gaming entertainment, Alysia Judge, and one of the most successful British dance music artists of the past 25 years, Sister Bliss (Faithless). As a Group, we also raised money for Nottingham Women's Centre, a local charity that helps self-identifying women achieve their goals. Community members were able to make a donation, pick up a pin badge and show their support. We also donated 20p every time customers bought one of our selected drinks from Antenna's restaurant throughout the week. The donations from badges and drinks alone raised ₤80 for the Centre!
Speaking on International Women's Day and the opportunity to get involved in Industry Week, Melissa May Smith tweeted:
Happy International Women's day! 💪🏼💜

'We juggle, we struggle & still we rise.'

Thank you to all you amazing females!

Thanks to @confetti_ict for including me in this lovely collage alongside some incredible women. I'm so happy to be part of Industry week again✨#iwd #iw23 pic.twitter.com/vFWWUwpQip

— Melissa May Smith (@melmaycreative) March 8, 2023
Catch up through OnDemand
You can visit the Industry Week website to catch up on last week's sessions, and watch highlights from previous years' festivals.
Get involved in 2024
Industry Week is a great opportunity to share your insights, experience and expertise with the next generation of creative professionals. If you're a member and would like to chat about Industry Week or other possible student projects, contact Alison Whitlock (Head of Talent Development) at Confetti for an informal chat. We'll even meet you in Antenna, and the coffee's on us!
Want to know more about Antenna?
Antenna offers a great city-centre location for all your meeting room requirements. If you want a new place to call your office, we have plenty of membership options that start at just £8.95 per month!