We recently caught up with David Jackson, Managing Director of NUEL – one of the UK's leading grassroots esports organisers including the annual Amazon UNIVERSITY Esports UK & Ireland tournaments.
Until recently, NUEL's team – spread across the UK – largely worked remotely with no fixed office base. In September 2022, they embarked on a partnership with our parent companies, Confetti Media Group and Nottingham Trent University (NTU). The move saw several of their team members, including David, moving into their new office space at Antenna.
Hi David, tell us a bit about how NUEL got started, and how it's grown…
Sure, so NUEL essentially started in a student bedroom. Back in 2010, Josh Williams, our Founder, was in his first year at university and said "you know what, I want to play competitively against other universities", and at that time, nothing like that existed. Josh then, without having been at university for very long at all, launched into creating the National University Esports League – now simply known as NUEL. Over the following decade, NUEL has grown from a grassroots, volunteer-led community initiative to – as esports has grown in recent years – a dedicated professional company. We've been on a real journey and our growth has helped us to realise that there's so much more that you can do at the grassroots level if you have full-time staff and if you've got some sponsors and commercial partners.
How did your collaboration with Amazon UNIVERSITY Esports come about?
That started for us at the beginning of 2020 and it's linked with our partnership with GGTech Entertainment in Spain. The next logical step in our evolution was not just the UK, but also looking at international partnerships and relationships. We had been involved in organising university esports at a European-level for years as part of the University Esports Masters, a collaboration with GGTech. In the esports area, GGTech is one of the largest companies in the Spanish-speaking world and the largest in university competitions throughout Europe.
In 2020, GGTech started working with Amazon on a pan-European university esports competition and through them we got brought into the fold. Amazon UNIVERSITY Esports is a collegiate esports partnership and NUEL is the host for the UK and Ireland competitions, with tournaments dedicated to popular esports game titles, including League of Legends, Counter-Strike: Global Offensive (CS:GO), Rocket League and more. Winners of these tournaments play against the best university teams internationally as part of the Amazon UNIVERSITY Esports Masters competition.
How did the Confetti partnership come about and what does it mean for NUEL moving forwards?
We've known and highly rated what Confetti Institute of Creative Technologies has been doing in the esports space for a long time. The development of their esports production courses; it's not just about the resources that have been going into them, it's also the approach, the way it really aligned with what we were doing was very appealing. We had already been supporting students through some guest lectures and event reviewing workshops (Dragons' Den type style). As we were wrapping up that piece of work, I met with Confetti's Head of Esports and Course Leader, Gin Rai, and Chief Technology Officer, Joe Duckhouse, and Chief Executive, Craig Chettle MBE to discuss future opportunities to collaborate.
As the discussions progressed it became clear how aligned we were both in our values and vision for how we can level up esports. Our respective experiences and resources are a great fit to help support the next generation of students who are poised to shape the industry.
Once we'd come to that realisation, logically we moved forward quite quickly from talking about guest lectures to talking about us moving in, which was very exciting!
Obviously we needed to take some time to figure out what the partnership would look like, but things came together quickly after that. The fog started to lift on COVID-19, we started to see more Confetti students coming through to work on our broadcasts, and there was the development of the new esports production facilities, Confetti X, as well. With some of our staff also based locally, it just made logical sense for us to lay down some roots.
Being based at Antenna means you are in close proximity to NTU and Confetti Media Group's creative, commercial businesses. How are you benefitting from being part of this network?
Antenna's a crucial hub at Confetti's Nottingham campus and we're already starting to see the benefits from a couple of angles. For me as much as anything, it's about proximity to the people. Being based where we are in our office S01 and actually having staff together in one place as opposed to remote has been really big for us.
I disagree with the idea that we don't need office spaces, I think there's advantages to different forms of working and I think there's definitely advantages to being in the building with people. Not just our own staff but with people from Confetti and Antenna's members and tenants as well.
We run a lot of events, like our recent Amazon UNIVERSITY Esports UK & Ireland Winter Finals held at Confetti X, and when everybody is in a single place, it's much easier to organise a conversation about ,"how can we get students involved in this thing?" It's less of an "oh, I've got to organise a summit meeting and it's going to be hell to try and get everyone in one room", and more a case of, "well, we're all in tomorrow, let's grab some breakfast in Antenna's co-working space and we'll chat about this and figure it out".
I think the physical proximity to incredibly useful spaces like Metronome and Confetti X is also a huge benefit. Being based at Antenna makes event planning so much easier and helps us to get the best out of the facilities. Being able to speak directly to the students is also an added advantage, and our office base, close by to Confetti and NTU's city campus, means we're in a position to more effectively advertise work experience opportunities. Not only this, we're also in a position to provide students the support they require to make the most out of the opportunities we're providing them. Since moving to Antenna, we've even employed one student, Rebecca Green, to our senior team as Broadcast Manager. When you have that close proximity to the students and you're working on projects together sort of by default because you're based so close, that facilitates this progression.
We're already seeing more students applying from Confetti as it becomes clearer to them the breadth of work experience opportunities there are, but I think that there's more that can be done in terms of us better educating students on what we're looking for to help them take that first run. We're getting a lot of support from Confetti with this and so I'm really optimistic for the coming season that we'll see this continue to improve.
I think, particularly with the international partnerships we hold, there are even bigger opportunities for us to work with Confetti and its network to level up what we're doing and level up what Confetti can offer. It's going to sound cliché but the sky's the limit. Especially with Confetti soon opening up their new London campus and replicating in the capital what they've got up here. We love how ambitious they're being and the key thing for us is it provides more scope for the sorts of things we can do. We organise different kinds of events and broadcasts, and sometimes the location is critical. It's important to have different options for the where and how, and it expands the reach for the sort of people we can hire to work on these projects. All of that is beneficial to what we do, and this initial move, and our location in Antenna is a really great platform for building all of that.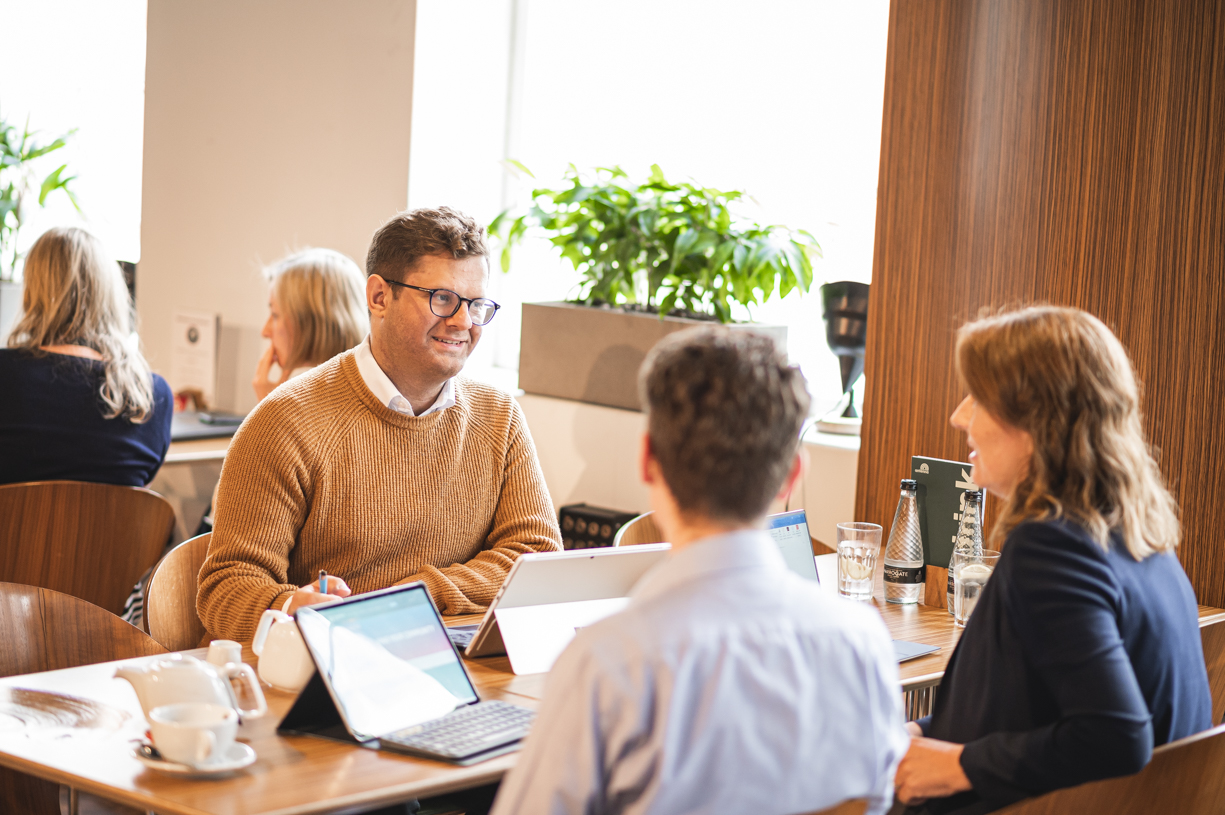 What were your first impressions of Antenna before moving in?
This is the sort of place where I'd love to bring people to meet us! Esports is such an embryonic industry and we as an organisation are transforming. To be able to say to people, we're based here, you can see it in people's faces like "wow ok, if you're working with them and you're based there, you mean business". When we were at the ESI London, an esports industry festival back in September 2022, and we told people about the partnership and that we were moving to an office onsite in Nottingham, people took a pause at that in a way that surprised me. My realisation then for sure was, we're levelling up and it's the next step in our evolution as a company.
How have they changed – are you enjoying your experience as tenants?
We love being tenants! There's a very positive feeling about the place and a lot of creative energy and talent. It's been really beneficial for us to have an office base. It's not just about a room right?! A room and PCs – it's the mindset it puts you in, and access to all of the tools available. It's really valuable to have IT, Estates, and Hospitality teams, and additional breakout spaces for meetings and collaboration. To have that so readily available is a real asset and it's nice to have that taken care of and to not have to outsource them separately. For us, the USP has to be the talent pipeline and Confetti's network, and Antenna facilitates all of this. We came into it quite hopeful with what we could accomplish and so far, we've definitely not been disappointed.
As a formerly fully-remote business, what would you say is the value of having a flexible office base?
The research shows that the amount you communicate with people falls off a cliff the moment they're outside of your eyeline, let alone in a different building. One of the reasons why we made the move to Antenna was because as a company we were experiencing challenges with communication and coordination, especially on big, complicated projects. Everything had to be very meeting-oriented and over structured. Since setting up shop in our office, we're seeing big improvements internally within the team, including less miscommunication and better coordination across the different projects. Externally as well, I love going and sitting in the co-working space and having those unplanned conversations. It's that learning from other people, forming relationships and stumbling upon opportunities that you'd otherwise miss out on. You can't replicate that in a remote environment and in hindsight, we were missing out before. Over the coming weeks, we're moving more of our staff here and hopefully we'll see that continue to grow.
What's next for you and NUEL in 2023?
We're looking forward to being involved in Confetti and Antenna events like Industry Week. We'll be supporting students as industry guests ourselves, delivering sessions that inspire the next generation to lead a career in esports whether it be in events production, game design, or casting.
One of the things we're all about is collaboration and pushing the boundaries of what can be done in our broadcasts. It's about being creative and coming up with cool ideas that nobody's ever thought about before. Because maybe they didn't have the right conversation or they didn't have that confluence of people all in one space. That's the importance of events like Industry Week; having that access to industry experts from a range of different creative industries. We're looking forward to learning a lot ourselves from the experts Confetti's bringing in and making some connections.
Beyond that, the big thing for us going forward is continuing to deliver more in-person live events of increasing scale. We are hoping to run more events out of the Confetti X development, and on the docket, we've got the live Amazon UNIVERSITY Esports UK & Ireland Spring Finals.
If people want to get in touch, are you happy for them to reach out?
Absolutely if any Antenna member or tenant would like to have a chat about what we're doing in the esports space or can see an opportunity to work together I'd love to connect. Feel free to say hey if you see me about, you can also visit our website www.thenuel.com to find out more about us. We're also on Twitter, Instagram, Discord and Twitch.
Not an Antenna member or tenant?
Antenna is Nottingham's most established co-working and flexible office space. Whether you're a freelancer or small creative company looking for space, Antenna offers flexible memberships from only £8.95 per month and a great city-centre location.
Find out more by heading over to our membership page.