If you've never visited Antenna, you really are missing out. It boasts the best co-working and rental office spaces where some of the leading creative minds in Nottingham call their home.
From business leaders, entrepreneurs and freelancers, to recent graduates and start-ups, the Antenna community is a rich and diverse mix of creativity – and it's now home to Andy Afford and his creative team at STENCIL.
Andy's portfolio is extensive. A professional sportsman, journalist, editor, editorial director, publishing director and in most-recent times business owner. His accolades include being named one of the British Society of Magazine Editors' sports editors of the year; a Sony Radio Academy Silver Award winner; UNESCO City of Literature collaborative board member; former Chair of the Nottingham Young Creative Awards; and Nottingham Trent University Alumni Fellow.
In this short interview, we find out how a lad from Lincolnshire went on to forge a successful career in professional cricket, chalking up almost 500 first-team wickets for one of the most iconic cricket clubs in the world, and how his time on and off the field has helped shape his philosophy on running a successful creative business.
Expect some interesting stories and insights….
How does a 19-year-old playing local cricket in Lincolnshire end up in Nottingham?
"I was spotted by Nottinghamshire when playing against them for a Lincolnshire colts side. I had two good games against Notts that summer, and ended up being invited to pre-season nets. This was way back in 1984.
"Pre-season went well for me and I ended up staying for the summer. I found myself living in digs at Sir Richard Hadlee's house on Pierrepont Road in Lady Bay with another Kiwi, David White – now CEO of New Zealand Cricket."
How did cricket broaden your horizons?
"Although based at Trent Bridge, a lot of time gets spent travelling up and down the country. Back then it was two of us in a car, one driving and the other with a map on their lap.
"Further afield, I had the pleasure of spending three winters on the trot playing cricket in New Zealand, and that's probably why I've always been a person that prefers the summer months over the winter. As you'd imagine, I've developed a real soft spot for the place, having had some amazing experiences and meeting people I consider to be great friends.
"Cricket-wise, I was nowhere near good enough to play for England, but was decent enough to be selected for an England A tour of Kenya and Zimbabwe. Playing alongside the likes of England future-greats Michael Atherton and Graham Thorpe, with Mark Nicholas as captain. It was an old-school tour; meaning we played a lot of cricket, but had enough downtime to see a bit of the country; including some incredible museums and exhibitions. We even made it to Victoria Falls."
You're a modest man, but you enjoyed so many highlights – which one tops them all?
"Well, it has to be the Benson & Hedges Cup Final of 1989. I was player-of-the-match in the semi-final against Kent – but only in the team due to an injury crisis – and still not a definite pick for the final at Lord's.
"We were up against a talented Essex side with the match going down to the last ball. We needed four runs from it and the great Eddie Hemmings managed to squeeze the ball between what felt like nine converging fielders to win us the trophy.
"On a personal level, I managed to take the important wicket of England captain Graham Gooch. Unfortunately, the celebrations were cut short as we had a game the very next day at Grace Road, Leicester. A place where even the most charitable among us would describe as having less atmosphere than the moon."
What did you learn or experience whilst playing cricket that helped form who you are today?
"As you'd expect, I learnt a lot about teamwork – but most of all, the value of having the right balance of personalities in any given group of people.
"Teams are made up of individuals with different skills and characteristics, all working towards a shared goal. You've got to have different high and low frequencies to make a successful combination.
"Another valuable lesson I've learnt is that age is an irrelevance. It's only what you add to the team that counts."
And is that the main driving force behind working with young people at STENCIL?
"Without a doubt. In sport it doesn't matter who you are or where you've come from – in that, it's a complete meritocracy. If you're good enough, you're in.
"It's at the centre of what Sam (Bowles, STENCIL creative director and co-owner) and I believe, and we're really proud of how we run the business. We want to attract and retain the very best up-and-coming creative talent. Period."
What came after cricket?
"By the time I reached 30 I realised it was time for me to think about what might come next. So I went to Nottingham Trent University (NTU), studying a degree in psychology and sociology whilst taking on some part-time coaching roles to pay the bills. It was exciting to learn new things again after spending 13 years in professional sport.
"After graduating I thought that the corporate training industry was going to be my future, but as a twist of fate I picked up some work writing. I then went on to become an editor, then publishing director, then a managing director in the publishing industry. I've written principally about sport and music – two real passions of mine – but inevitably there has been lots of other stuff in the 20-odd years since.
Have the two careers ever crossed?
"Oh yes, many times! Writing a feature with Graham Gooch, what felt like a hundred years after our final at Lord's! Graham was pretty inscrutable on the field – certainly someone who, as a member of the opposition, was quite difficult to build a rapport with. But during that feature we got on great. It shows you the power of sport, even long after the bails have been lifted. Glory days etc.
"I've also had the pleasure of working on some great editorial projects with the likes of Jimmy Anderson, the Broad family – even Geoffrey Boycott. But our portfolio at STENCIL is now far more varied than that. Film, photography, campaigns, web-builds, branding… you name it, we've delivered lots of marcomms projects for some fantastic clients."
What's the key to recruiting and retaining young talent?
"Now, this is where Antenna is "the space to create", as they say! It, like us, has strong affiliations with Confetti Institute of Creative Technologies and NTU, which – for its tenants and members – means we are always close to its pool of young people."
Is it really that easy to recruit talent?
"Ha, no… not at all. The team at Confetti are brilliant, but if you want to succeed at recruiting and retaining young people you have to put the time and effort in to support them and their aspirations.
"We saw Antenna and its links with Confetti as a great opportunity to enhance what we as a business aspired to do. As a creative agency, it's really important that our proposition is a strong and compelling one for our staff, and is something that feels wholly authentic. We now have a pool of what I consider to be incredible talent working with us – some of them part-time whilst they study at Confetti, and some who we recruited shortly after they graduated. But it has taken some time to  formalise this as part of what we do."
Could you offer up some advice for anyone looking to recruit talent?
"It's taken us four years to establish a relationship that works for both us and Confetti, and also  the students. If you want a long-term gain, it will take time – no doubt about it.
"It has also meant that our business purpose has evolved. It has been a relatively pain-free process, as Sam and I have always had a positive mindset around working with young people. But as a business generally, we've all learnt a lot. Covid-19 changed things further still. Work-wise, the things you and I as more experienced executives take for granted – making a round of tea and coffee, speaking to people face-to-face, fielding phone calls, and just being in an office environment – is all alien to the latest crop of young people. Through no fault of their own. As we've grown, we've also had to change how we manage our working days. It has meant adding more structure. Systems that now include the timetabling of individual 30-minute design meetings in the morning and afternoon, so that every young designer has the opportunity to present their work, discuss their process, take on feedback, and communicate effectively – it's like a series of mini pitches.
"Equally, Friday used to be a day to clear calendars and catch up on outstanding tasks. These days, it's the day Sam and Vicky (Elwick, STENCIL art director) plan out the week ahead for all the design team. In that, they do a fantastic job.
"Finally, I'd say that if you're serious about what you offer young people you need to be mindful that many regard themselves as being on a journey; with them as the central character in their own movie. It sounds a bit dramatic, but if you're not offering them that positive enhancement and affirmation on how they see their life going, then you simply won't fit in with their aspirations around work. A massive thing they've missed out on over recent years is social interaction, and that's one of the main reasons why we decided to become a tenant at Antenna rather than remain in our office space at Sneinton Market. It was lovely down the hill there, but we needed a space that would allow us to grow and develop culturally. Enabling all our people to be in the office together, to socialise, and develop as a team. Like most business owners, Sam and I were expecting some fallout when we did return to the office, but everyone's embraced it and got lots from it. It's something that Sam and I get a lot of pleasure from too, and feel proud that we're managing to make a positive difference."
You mention Covid-19, how did you personally find lockdown?
"I spent the best part of ten years working from home during my earlier career, but it was a completely different experience then.
"As a business owner during lockdown I missed the day-to-day interaction. It's just not the same over Zoom, is it! Plus, I believe it to be a major part of my job to support, develop and create a positive and professional atmosphere in the business. Again, I don't believe you can achieve that level of executive development when working remotely with a young and inexperienced team."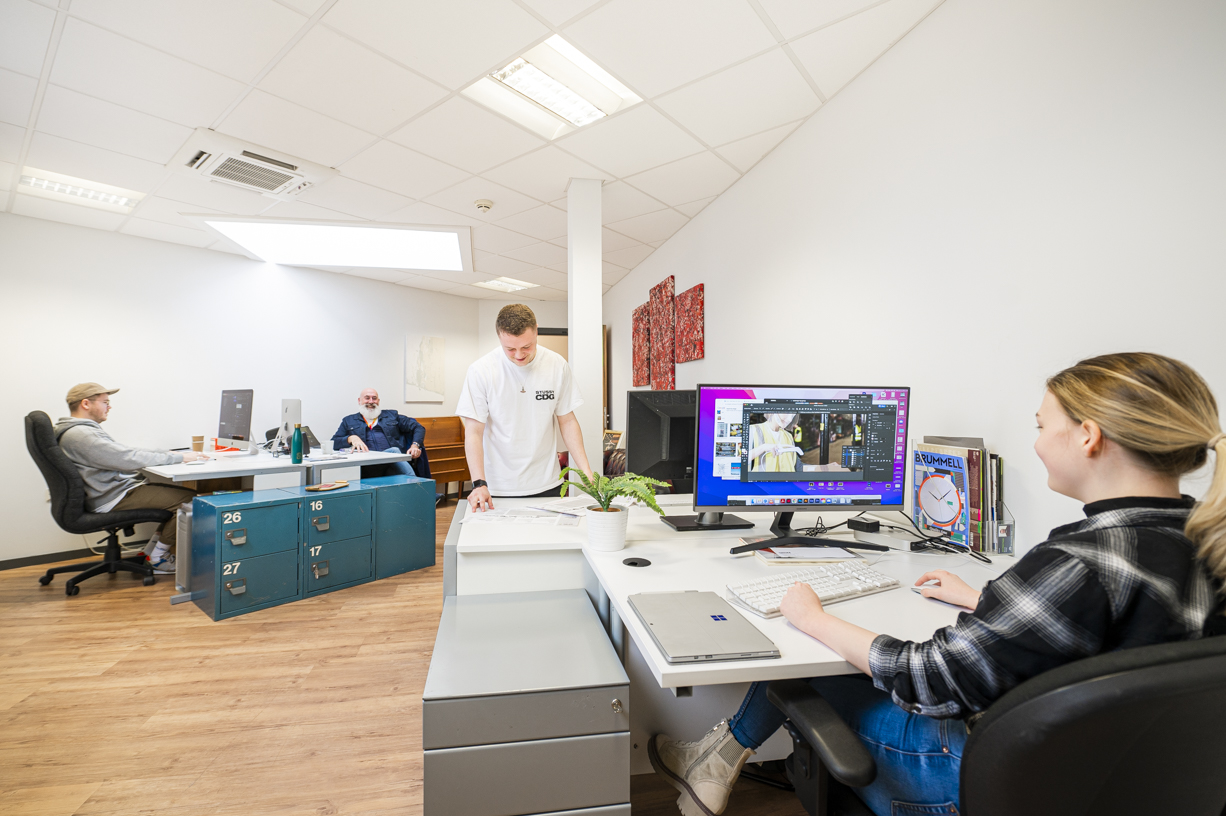 Where do you see STENCIL in 10 years' time?
"The ambition is to grow our talent pool as we continue to grow as a business. It's as simple as that and I'm really excited for what the future holds for both Sam, Vicky and I, and our crop of young talent. I hope to see us all move onto bigger things. Whether with us directly or not, it can only be a good thing in helping advance the STENCIL brand."
You've joined a creative community, what's your message to fellow Antenna members and tenants?
"We'd love to hear from fellow members or tenants. A simple coffee and chat can lead to new opportunities, so my message would be… our door (on level 3) is always open. Come and say hello, or you can probably find me at the bar ordering a coffee."
If you're interested in joining Antenna we have a limited number of tenant spaces available. Get in touch with our Business Development Manager, Tonia to find out more.